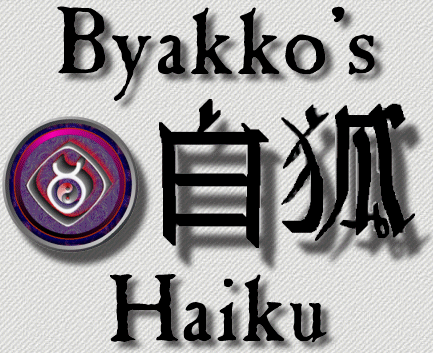 I am Byakko , The White Fox, and this is my expression...
I enjoy writing Haiku and every one is my personal experience of a time, place, and occurrence. These pieces are universal to us all, good and bad. I am simply sharing my glimpses into being. I hope you enjoy them.

I write my Haiku in the traditional five-seven-five syllables per line method. I try to employ the "cutting" technique in my Haiku whenever possible.
I have grouped my Haiku into "Evolutions". These are periods of Haiku connected to each other through inspiration. They flow into each other and each Haiku is in the order of its respective conception.
If you want more information about writing Haiku or would like to read others, I suggest World Haiku Review .
If you would like to contribute your own Haiku, please feel free to submit them on my Haiku Submissions Form. I will try to include your Haiku as quickly as possible on the Shared Haiku Page.
Try out The Instant Haiku Generator, it does all the work for you. Compose your Haiku in seconds and see what you get. A different Haiku each time. Submit your Generated Haiku and have the results included on the Instant Haiku Submissions Page. Lots of fun!

**Mount Fuji Season Mandalas Contest and Wallpapers**
Submit your Haiku inspired by seasonal images of Mt. Fuji for consideration in this cool haiku contest!
Four winning haiku will be made into Desktop Wallpapers accompanying the four seasons Mt. Fuji Mandalas.
You can also download a very cool Basho Mandala Wallpaper featuring one of his Mt. Fuji Haiku here.
Quotes from The Dhammapada- The Sayings of the Buddha


Byakko Haiku

Submitted Haiku

Mt. Fuji Mandalas
Mount Fuji Season Mandalas Contest and Wallpapers

Instant Haiku


Blue and Purple Background courtesy of:
Other Backgrounds and dividers courtesy of: